Summer means grilling!
Summer is the grilling season. After a long and cold winter it is a pleasure to fire up a grill and cook outside on hot coals or a gas grill. Smoke and sear of the grill add an unmistakable taste of summer to any food. Also the children love cooking outside - summer is for adventures!
Today we will share our family's tried-and-true recipes for grilling. They can be cooked on any type of outdoor grill. They will not taste as good if they are cooked in the oven.
Also note that preparing food using grill takes time. Cooking on a charcoal grill can take up to 2 hours, gas grill is somewhat faster. Also marinating the meat takes up to overnight. For this reason make sure you plan your meals accordingly and start early.
Grilled lamb skewers
The grilled lamb skewers consist of lamb and onion pieces marinated in vinegar. They have a strong taste and are our favourite.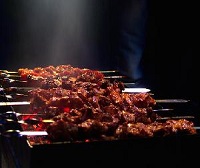 Photo courtesy of Shevchenko Alexander, via Flickr
Grilled lemon-marinated pork
The lemon-marinated pork is also cooked on skewers. It has a milder and more complex taste.
Photo courtesy of Mallory Dash, via Flickr
Grilled cheesy mushrooms
The cheesy mushrooms make a very fast and easy-to-prepare side dish. These can be cooked last, when the coals are not so hot, and can be also cooked in the oven.
Photo courtesy of Ivana Sokolović via Flickr